Bill would have been 29 years old today.

Here is a list of music that his brother Noel picked for his memorial service in 1995. Some were songs Bill loved, and others were ones that Noel thought needed to be included as part of his & our goodbye:
"

Hold Back the Dawn

" by Robbie Robertson
"

Calling You

" by Jevetta Steele ~ from the wonderful

1987

film Bagdad Café ~ a.k.a. Out of Rosenheim.
"

Fare Thee Well

" by The Indigo Girls
"

Nightswimming

" by REM
"

Vuh

" by Sky Cries Mary
"

Imagine

" by John Lennon
"

All Apologies

" by Nirvana
"

Healing Chant

" by The Neville Brothers
"

Ghost

" by The Indigo Girls
"

Silent Lucidity

" by Queensryche
"

Cursum Perficio

" by Enya
"

Be Careful of My Heart

" by Tracey Chapman
"

Sweet Lullaby

" by Deep Forest
"

Love of My Life

" by Queen
"

Ain't No Cure for Love

" by Leonard Cohen
"

Sounds of Silence

" by Simon & Garfunkel
"

Pesky Angels

" by The Righteous Mothers ~ a 1994 song by this great local band. The lyrics to "Pesky Angels" are here.
"

These Are Days

" by 10,000 Maniacs
"

Let It Be Me

" by The Indigo Girls
"

Shine On You Crazy Diamond

" by Pink Floyd
"

Yesterday

" by The Beatles
This is the photo and words that Noel put on the cassette
he made for Bill's memorial: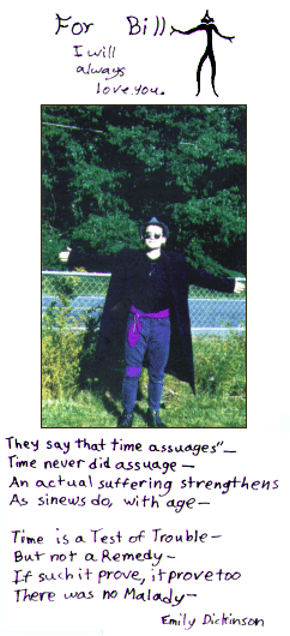 I also would also now include these:
"

Let It Be Me

" by The Indigo Girls
"

Why Worry

" by Dire Straits ~ which I used as the soundtrack for an animated film called

Window Bill

that I created of Bill wiping the dew from our apartment window on Christmas morning in 1988 while I was a student working on my senior project in a contract at The Evergreen State College. We were waiting for Catherine so we could open our presents. Luckily I had my video camera out ~ there was something magical happening, and I knew then I was going to work with the images of Bill that I was catching.

Images from "Window Bill"
And it wasn't written then, but I would now add "Will It Always Be Like This? (Gabi's Song)" by Steve Schalchlin. Its on two of his albums The Bonus Round Sessions and Beyond the Light. The lyrics are on Steve's website here. Steve sang the song in public for the first time at a national PFLAG conference in Washington DC in 2000 with Alec and I sitting in the audience. The money raised from the sale of his CDs goes to support Youth Guardian Services.