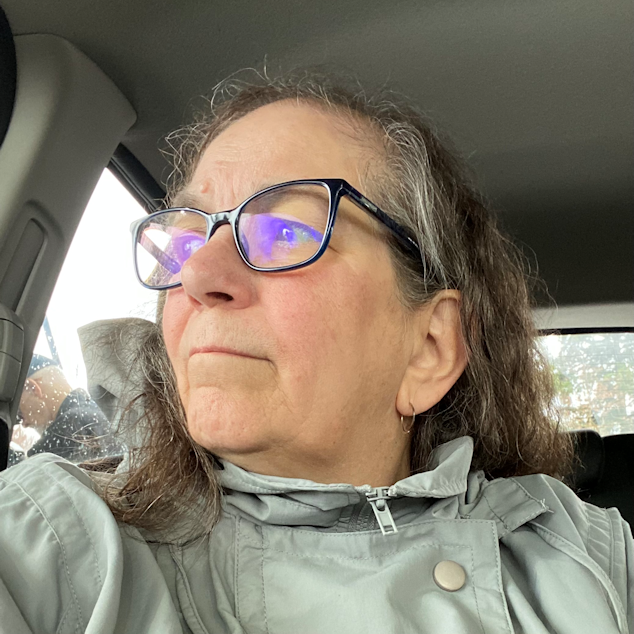 My name is Gabi Clayton. I'm a seventy-one year old visual artist, graphic designer and website designer; a publisher, editor, and co-owner of Mud Flat Press. And I'm the 'digital publication manager' of OLY ARTS magazine.

Some of my art is here on my gallery pages. I also share my recent art on Facebook, Instagram, and on Threads.

I'm proudly a "red diaper baby," raised on picket lines by my Communist German Jewish refugee film editor father and my socialist feminist social worker mother. See my Encircled by My Cultural Heritage essay here.

I'm a nontheist Quaker, a PFLAG member, and a pescatarian. My pronouns are she/her.

I've been married to writer/artist Alec Clayton for almost fifty years and I'm the mother of two wonderful sons, Noel and Bill. If you're looking for our younger son Bill's story, it is here until I redesign that part of my website. (Note: menu items on Bill's Story pages that refer to pages outside of that section don't work now because they refer to my old site.)

My extensive quote collection starts here. I add new quotes as I find them and as I have time.

I live in Olympia, Washington (USA), on land of the st̓əč̓as (Steh-Chass) people of Budd Inlet, one of the seven Coast Salish bands that make up the present-day Squaxin Island Tribe at the southern end of the Salish Sea.

thanks for stopping by,
Gabi