Our friend Ty brought this dish to a potluck Alec and I were at and it was sooo great we asked for the recipe. Its become one of our favorites — especially when fall is ending along with the warmer weather.
One can of black beans
One can of diced tomatoes
1 tablespoon of tomato paste
1 cup of corn (I usually do 3 or 4x the recipe amount because I like corn)
1 tablespoon of olive oil
2 cloves of garlic (I use at least 3x this much!)
½ cup of chopped onion (again I am liberal in my use of onion. Probably 2x the recipe)
1 tablespoon of chili powder (add to your liking)
1 tea spoon ground cumin
1 tea spoon sugar (Gabi's note: we leave out the sugar.)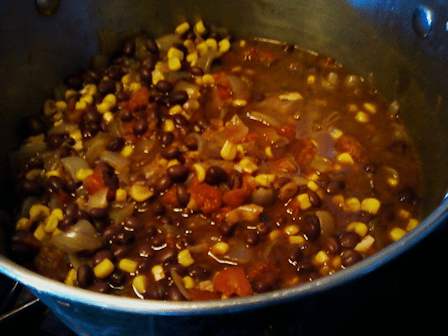 Other yummy things I like to add in occasionally: cilantro, fresh avocado on top, cheese, fresh chopped green pepper on top, sometimes a tea spoon of salt depending on how much chili powder I use. (Gabi's note: we've never added salt.)
Sauté the onions and garlic for the chili and then add the spices and everything else.
It is pretty low-fat and relatively low sodium.