Steve Schalchlin is coming to Olympia to do a very special Mother's Day concert for PFLAG-Olympia! WooHoo!
Can you tell I'm really happy about this?!
In his Friday, April 03, 2009 blogging: Personal Appearances. Steve wrote:
This whole new wave of personal appearances, culminating in the creation and design of a new live solo concert, began with a simple request. Gabi Clayton — do I have to remind you who she is? — approached me about going back up to Olympia, the place where I played the "Imagine" piano, to sing a new concert as a benefit for PFLAG-Olympia. Given the fact that I'll do anything, anywhere, for any PFLAG, my answer was yes.
Steve is going to sing and talk at Unity of Olympia church on Sunday, May 10th (Mother's Day) morning. Then he will be our program at the PFLAG-Olympia meeting that afternoon.
Then the concert at Capital Playhouse at 7p.m. – and tickets are limited so get them as soon as possible before they sell out.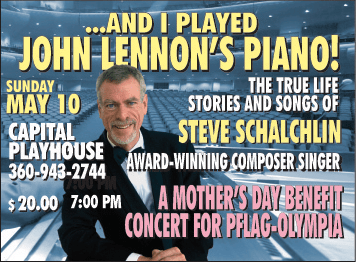 Lot's more information is posted on the
PFLAG-Olympia
website.
Please join us!
It's an absolutely fabulous way to celebrate
Mother's Day and PFLAG.