Yesterday Alec and I were talking to a friend about living with children who are at the young toddler age, and we remembered Bill when we were living in the upstairs of the big blue house in Hattiesburg Mississippi. I think Noel was about two and a half or so and Bill was a little over one year old.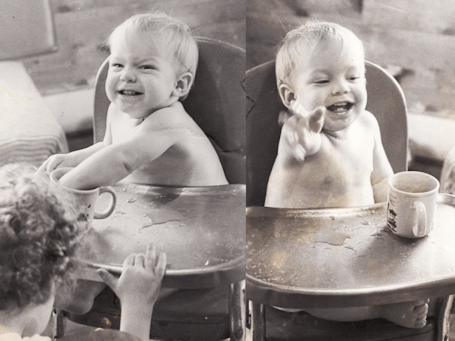 Bill loved his walker, the kind with a frame with wheels and a cloth sling to seat the child on.

One of Bill's favorite things to do was to propel himself over to our bookshelves and pull each book out very, very slowly one-by-one with a finger until it plopped onto the floor between him and the shelf. He thought that was hysterically funny.
He would work his way down the shelf and then we would have to go put them back on the shelves. That really amused him. I'm not sure if it was the plopping or seeing us put them back (so he could do it again) which entertained him more.
Then Alec remembered that another thing Bill did back then with those books. He would take each one all the way out, turn it around and place it back on the shelf with the spine in.
As I've said before, Bill was an imp.