From April 26th through 29th, the Seattle Repertory Theatre production of My Name is Rachel Corrie will be performed at The Evergreen State College in Olympia, brought by Evergreen Expressions.
The Rachel Corrie Foundation is organizing talkbacks, post-play discussions by those who attend the play, and educational outreach to local high school and college students.
My Name is Rachel Corrie
April 27 & 28 at 8 pm ~
April 28 & 29 at 2 pm
at the Experimental Theater, Communications Building
The Evergreen State College, 2700 Evergreen Parkway NW, Olympia
admission: General $30; Seniors/Students $20
tickets:

Rainy Day Records, Evergreen Bookstore, BuyOlympia.com,
Communications Bldg. Box Office daily: 12-3 pm or 360-867-6651 to order by phone.

Alec and I saw this in Seattle and it is excellent. I highly recommend it.


~*~*~*~*~*~*~*~*~*~*~*~*

Alec and I will be going to this and I wanted to be sure other people know about it:
On Saturday evening, May 5th, Peace Works will present Voices of a People's History at the Washington Center for the Performing Arts in downtown Olympia. This is a theater presentation of readings from the book of the same name edited by Anthony Arnove and Howard Zinn.
Other Voices performances have occurred in New York, San Francisco, Chicago, and Berkeley to great acclaim. The Olympia performance will be narrated by Anthony Arnove and will feature readers presenting true-life narratives from American history–from Sojourner Truth, Tecumseh, and Eugene Debs, to the present day–including an email from Gaza from Rachel Corrie.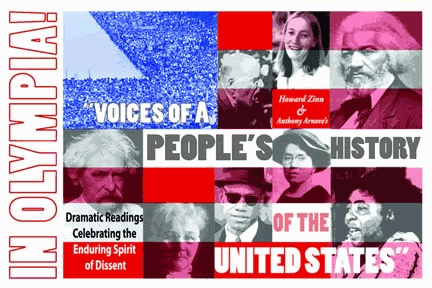 Voices of a People's History
Dramatic Readings Celebrating the Enduring Spirit of Dissent
Saturday, May 5, 2007
7:00pm (doors open at 6:15pm)
The Washington Center for the Performing Arts
512 Washington St SE, Downtown Olympia
Featuring Anthony Arnove, Dennis Brutus, Nomy Lamm, Nina Laboy, Brian Jones, Cindy Corrie, Chanan Suarez-Diaz, and others, to be announced. The event will be wheelchair accessible and ASL interpreted. General Admission – $10 ~ Tickets available on April 17th
through The Washington Center (360-753-8586),
Rainy Day Records (360-357-4755), and Orca Books (360-352-0123).