Our Olympia City Council is seeking to repeal our Nuclear Free Zone Ordinance on Tuesday, September 9th!
Please take action on this!
Here is the press release that went out today:
09/05/08
PRESS RELEASE
Supporters of Nuclear Free Zone rally for community show of support
The Olympia City Council wants to repeal our Nuclear Free Zone. Tuesday, Sept. 9 they plan to repeal it without allowing for public dialogue or testimony. Supporters of the Nuclear Free Zone ordinance are asking people to show up at the Council meeting to demonstrate their support.
The city's Nuclear Free Zone (NFZ) ordinance was adopted by the Council with great support by the members of this community in August, 2005 on the 60th anniversary of the U.S. nuclear bombing of Hiroshima and Nagasaki. More than 90 percent of the community voiced support at that time.
Here are some why repealing the ordinance is a bad idea:

Council Members admit the ordinance places no burden on the city.

The NFZ was adopted following an extensive process including three public meetings of the City Council General Government Committee, and a public hearing at which 100 percent of the people who testified supported the ordinance

Since 2004, the city has been contacted 282 times about the ordinance. 216 of the contacts supported the ordinance (76%), 38 opposed it, and 28 had no opinion.

Several Council members have stated that the ordinance is not enforceable and is merely symbolic. However, it is no more or less enforceable than any other city law, and has been successfully enforced since it was passed in 2005.

Many cities across the nation and across the globe have taken positions to oppose nuclear weapons. Mayors for Peace now includes more than 2000 members. Nuclear Free Zones have been established across the globe and in such diverse places as Oakland, CA, Lane County Oregon, San Juan County, WA Chicago, IL, Tacoma Park, MD, Las Vegas, NV, Boulder, Co and the Big Island of Hawaii.

The City attorney reported that the NFZ ordinance poses no tangible risk or legal liability to the city.
The NFZ is the ultimate example of taking local actions to address global concerns. Such actions should be embraced, as solving big problems always come about through many small solutions coming from the grassroots, rather than one big solution imposed by fiat from the top down.
Repealing the NFZ sends a message of hopelessness and despair to the community. It says that we as a community are powerless to address one of the most significant challenges of our time. Is this the message we want to send to our young people?
Supporters are calling on the public to join a rally and procession Sept. 9. The rally kicks off at the Knoll, 5th avenue, north side of Capitol Lake, Tuesday, Sept. 9 at 4:30 p.m. At 5 p.m. there will be a sidewalk procession to City Hall to welcome city Councilmembers and staff with a beautiful display of support for our Nuclear Free Zone at 6 p.m. Council meeting starts at 7 p.m.
People are asked to bring sunflowers, musical instruments and creative signs and props.
Contact:
TJ Johnson
tjjohnson@scattercreek.com
360-943-4596 (home)
———————-
So, please help get the word out.
Send the press release above to people in Olympia — and ask them to take part on Tuesday.
And here is a flyer to share: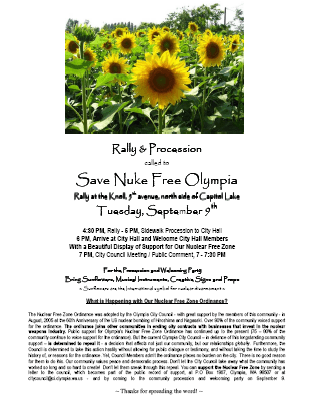 Download the full page flyer in pdf format here:
Flyer for Sept. 9 Save NFZone Rally, Procession,Welcoming Party
Also, we are creating a large bank of names of folks who support the Ordinance! Will you add your name to this list?
Here is the plan — PLEASE DO IT AS SOON AS YOU READ THIS, BECAUSE TIME IS SHORT!
Create an email addressed to mollygibbs3@gmail.com

TYPE YOUR FIRST AND LAST NAME into the email with the statement "I (or we) support the Nuclear Free Ordinance. That's it. When Molly receives your email, she knows that you support the Nuclear Free Ordinance.

Click "send".
Molly will add your name to the list that list will be presented to the City Council onTuesday night.
And join with us on Tuesday. Alec and I will be at City Hall for the Council meeting.