In MILK — A Great Movie Trailer. Steve Schalchlin wrote:
The Gus Van Sant movie about Harvey Milk, the first openly gay elected politician, a man assassinated for nothing more than being gay and refusing to pretend otherwise, looks incredible. I actually began to tear up in the theater just watching it.

Filmed in San Francisco and featuring what appears to be a sensational performance from Sean Penn as Harvey Milk — well, if the movie is as good as this trailer, this could sweep the Academy Awards. And I hope it is. And I hope it does.
Wow, I can't wait to see this film!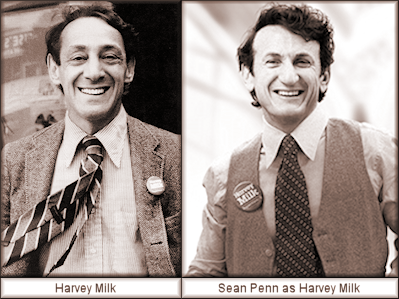 View the great movie trailer here.
MILK – the official site for the movie in theaters November 26th.
John Cloud wrote:

People told him no openly gay man could win political office. Fortunately, he ignored them
Read the article: Heroes & Icons: Harvey Milk by John Cloud
TIME 100 ~ June 14, 1999
And read more about: Harvey Milk in Wikipedia