We adopted a cat named Chloe yesterday. These first two photos were taken by the folks at the shelter for their website: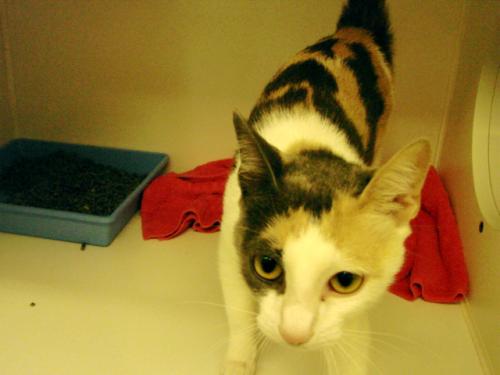 This is Chloe.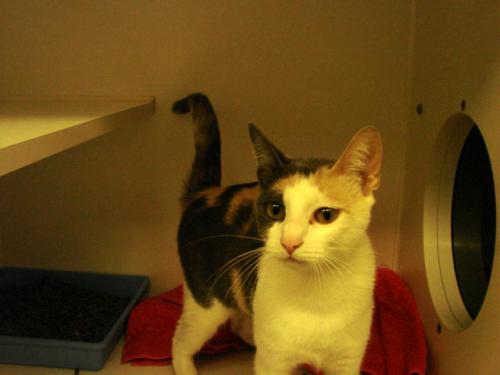 We picked her out at the local animal shelter website, and then Noel and I went and met her and brought her home yesterday.
She was described on the website as a domestic short hair, dilute calico [mix].
She's not a kitten, she's a teenager I think, probably she's about 7-9 months old. She was spayed two days before we met so she has a healing cut on her shaved belly.
Linus, Noel's cat, has been with us for a couple of months. He is here until Noel gets back from a camping trip on Sunday. Then he will take Linus home to Seattle on Monday.

Chloe is smaller and younger than Linus but she's the tough cat. She was a stray before the animal shelter.

She hissed, spat, growled and chased Linus who ran away. He's curious, so he kept coming
back. It was a semi-friendly game of cat and mouse and he is the mouse. She's definitely letting him know this is her house and she's the boss.

She'll be an indoor cat, as Linus is. She spent the night in our bedroom with the door closed so she and Linus would be separated.

So, today they started getting along after some initial drama with Chloe doing the chasing and growling again. We separated them when we needed to leave the house for a while, and then let Chloe out of the bedroom again when we got home.

And then:
She's a climber and a jumper, and she's exploring everyplace.
With people she is a real lover. She hops right up and curls up in laps.
Here she is relaxing with Alec:
We think she knows she is home.