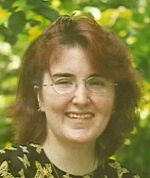 My dear friend Jason Hungerford's aunt is missing.
Joey Lynn Offutt, a 33-year-old single mother, has been missing since July 12, 2007, after a fire destroyed her home in Sykesville, Pennsylvania.
See my aunt has been missing
and
Jason's blog Perks of Being Me
Please help if you can, and spread the word.
Jason is the founder of Youth Guardian Services, and his server is host to Bill's story and my resource pages, as well as Alec's website, Safe Schools Coalition and PFLAG-Olympia's site.
Thank you.