welcomes you to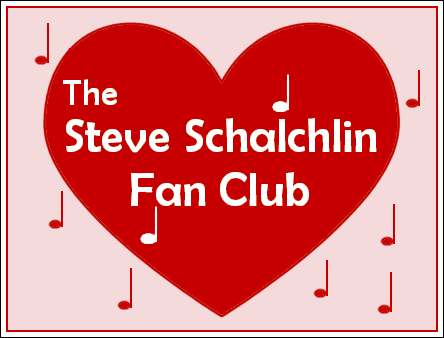 This website is here for one simple reason -
to honor Steve Schalchlin and his music.

Steve Schalchlin - on his 2006 birthday - Oct. 4, 2006.
Photo by Bev Sykes
Steve wrote the lyrics and music
and his partner Jim Brochu wrote the books
for these incredible musicals

The Last Session

and

The Big Voice:
God or Merman?

And don't miss The Big Voice Video Diaries
from the Off-Broadway production that opened on November 30, 2006
at The Actor's Temple Theatre, New York City.


Here are press materials/pictures from the Omaha production
of The Big Voice which includes great high definition pictures


Steve's partner JIM BROCHU is ZERO MOSTEL in

ZERO HOUR

nominated for three L.A. STAGE OVATION AWARDS
Steve has also released these great CDs:
Steve wrote the amazing song "Will It Always be Like This? (Gabi's Song)" which he sang in public for the first time at a national PFLAG conference in Washington DC in 2000 with Alec and I sitting in the audience. Here are the Will It Always be Like This? lyrics. The song is on two of Steve's CDs: The Bonus Round Sessions and Beyond the Light

For information and to order all available CDs go to http://www.youth-guard.org/cd

The money raised from the sale of his CDs goes to support Youth Guardian Services.




---

12/1/02 -- note from Steve:

"I'm thrilled to announce that the superb Dallas production of TLS has released a cast album of their own. Release date: Dec. 5th. Order them from their website -- http://www.uptownplayers.org. This is very exciting for me because this will only be the SECOND full cast album recorded of our show."

---
If you somehow found this web page without knowing much about Steve and you want more information,
read his online diary:
Living in the Bonusround
The Somewhat Famous Online Diary
of Steve Schalchlin,
a Songwriter Living with AIDS.

Now Steve blogs at
Living In The Bonus Round:
Where time speeds up and the prizes are better
---

Visit The Stevie Schalchlin Photo Album! Photos of Steve growing up -- provided by a relative who shall remain un-named. :-) See Gabi's pictures from her trip to see TLS at the Laguna Playhouse September 1998!

Alec wrote an article about me and Steve Schalchlin and our friends and "Bill's Story" for the September 24-30, 1998 issue of Tacoma City Paper : SURVIVORS: Living in the Bonus Round -- Music, suicide, healing broken spirits -- life and love on the Internet in the age of AIDS

We can gush a bit. It may seem silly...
but this is, after all, a fan club!

We are some of the people who are lucky enough to call Steve our friend,
and some of the people who love his songs:

Linda George
Emily George
Tracey Thornton
Kate Leahy
Adam Derrick
Nicky Derrick
Linda Leahy
Rob Leahy
Randy B. Kilbourn
Ronda Espy
Lizzy Schalchlin
Kerry Russ
Christine Edgar
Julie Askins
Kelly Gillespie
Pat Belanger
Forest Godsey
Betsy McNutt
Alison Stine
Jerry Gaither
Steve Kirkpatrick
Bruce Dorsey
Kathleen Capper
David Robyn
James
Hoover The Pig - Steve's "biggest" fan! :-)
Katherine Wintersnight
Kent Clark
Suzanne Victoria
JoAnne McNary
Russell Capps
Harriet Schock
Suzze Tiernan
Bryan Johnson
Linda Copeland
Justine Keeble
John George
Todd Roos
Tom Hinshaw
Paul and Betty Beeman

Dwight C Whitney, Jr
Rick Rattie
Ray Wroblewski
Karl Haight-Boyd
Ed "Broph" Brophy
Charlene Wolff
Connie Gohata
Helen Sabia
Jarvis Chen
Dan & Blythe
Luke Chipperfield - Rebel Without a Cure
Noel Clayton
Richard Goldman
Marie T. Harris
Shaun Cooney
Linda Draper of the Detroit Community AIDS Library (DCAL)
Michael Alden
Maggie Heineman
Barb from Ring of Friendship
Chris Curcio
Dawn Slegona
Carolyn Cox
Gloria Ginsberg
Erin Lewy
Becky Corning
Jay Kerch
Jennifer Muir
Bill Kibler (Aka "Kibs")
Maggie Campbell
Thomas King
Steve Basile
Peggy VanDyke
Martha Lare
Gary Lare
Barbara Eickhoff
Donald Groppe
Mariana Maia
Wilson Justice

Krista Willoughby
Crissy Terawaki
Sara L. Szmodis
Barefoot Ron Iseli
Link Tague
Tracy Campo
Dixon Martin
CJ Liotta
Megan Drury
Linda Delayen
Lori Machens
Randy Thomas
Karen Tiongson
Tina Olson
Linda Dahlstrom
Bob Buehler
Melanie Gilbert
Jeff Cummings
Sandrine
bekj
Lisa Bobeczko
Ruth Bobeczko
Lyndsay Morgan Schaeffer
Jim Ferguson
Shawn Spencer
Carol Graves
Stephanie Dolan
Stacy Poindexter
Jonathan Long





---

You can write to Gabi Clayton at

to join the fan club and have your name added to the list on this page.